Jurors for 2016
Fan Jurors
Byron Lee


Byron Lee was born legally blind, and with a face perfect for radio! He is the host of The Fun Zone, a 2-hour show on Dementia Radio, Radio Free Dishnuts, and The Beyond Radio Network. He has been a member of the Dementia Community since the early 90's. You might remember him from the #weird-al or #dementia channel, #412 on the Al-Team, or @byron27 on Twitter. If you have ever been to MarsCon or FuMPFest, you will have seen him behind a mixer, streaming and recording the festivities. Be sure to stop by and say hello at the next con!
JoAnn Abbott


JoAnn Abbott has written over 50 songs in the past 5 years, some of them actually worth singing and listening to according to friends and family. She has loved singing and music since she was a child, and has collected a wide variety of instruments over the years, including her most recent, a celtic levered harp. In spite of buying and "doodling" on all of these instruments, the ability to read music never appeared spontaneously within her mind, like Athena sprouting from Zeus's ear…so she has been taking harp lessons for the past year and a half, and voice training the year before that. Now if she would just PRACTICE more often…
Her tastes are eclectic, from an early love of Broadway show tunes to Gregorian chants and medieval music; children's songs, church hymns and rock classics to an unfortunate attraction to bawdy songs from all genres which has gotten her in trouble a time or two.
Greg Crowther


Greg Crowther is one of the world's most enthusiastic collectors and performers of educational science songs. This occasionally comes in handy when teaching biology at the Bothell campus of the University of Washington — the proverbial "day job" that Greg should not quit. Throughout Greg's formative years, his father wrote a humor column in the Rutland [Vermont] Herald; any skewness in what Greg considers funny can probably be blamed on that.
Musician Jurors
Paul Sabourin

Paul Sabourin is one-half of Paul and Storm, known internationally and across the Internet for their original comedy music (often with a "nerd-ish" bent). In addition to their own live performances, they are co-founders of the geek-oriented variety show w00tstock, along with Wil Wheaton and Adam Savage, and co-produce the annual JoCo Cruise. The duo's original webseries musical, "LearningTown", debuted on YouTube's Geek & Sundrychannel in January 2013. Also in 2013, their song "Another Irish Drinking Song" was featured in the hit movie Despicable Me 2, and in July had their guitar smashed on stage by George R. R. Martin (and deserved it). Their fifth full-length CD, Ball Pit, came out in 2014, and was the central item of the duo's wildly successful Kickstarter campaign.
Jessica Delfino


Jessica Delfino is a critically acclaimed and award winning comedic musician who has performed all over the world. Called "Lower East Side's Queen of Obscene" by The Village Voice and awarded a "Voice Choice" Award for "Best Guitar Slinging Comedian", the "ECNY Best Comedic Musician" award, and a finalist in the Andy Kaufman Award, Jessica has appeared on Good Morning America, The Jim Gaffigan Show, the Russell Brand radio show, The Dr. Demento Show, on Opie & Anthony, The Playboy Channel, Jackie The Jokeman's Joke Hunt on Sirius XM, Edinburgh Fringe Fest, Dublin Comedy Festival, on stage with Weird Al Yankovic in the Apocalypse Tour, and much more. Jessica is a producer of the annual NY Funny Songs Festival. Visit her @JessicaDelfino or find her on Facebook.com/JessicaDelfinoNYC.
Tim "ShoEboX" Crist


Tim "ShoEboX" Crist is the sole member of the synth-punk-comedy band Worm Quartet who was one of the Founding Members of The FuMP and had the most requested song of 2004 on the Dr. Demento Show with the ex-girlfriend ode "Great Idea For A Song." In 2011 Worm Quartet won the Logan Award for Outstanding Original Comedy Song for the true tale of ShoEboX's vasectomy in song form, "The Ballad of Dr. Stopp." ShoEboX is also the writer for the syndicated comic strip PartiallyClips, and appeared on VH-1's Totally Obsessed as "The Pac-Man Guy." You can find Worm Quartet online at wormquartet.com.
Permanent Juror

Dr. Demento is the on-air name of Barret Hansen, the longtime host of The Dr. Demento Show, a syndicated radio show in the U.S. that features novelty and comedy records. Hansen studied music at Reed College in Portland, Oregon and at the University of California at Los Angeles. He first used the Dr. Demento moniker in 1970, in his early days as a Los Angeles disc jockey. By 1974 he was nationally syndicated, playing rare novelty songs from the past and present, from Spike Jones and Tom Lehrer to Frank Zappa and Weird Al Yankovic. Hansen is also an avid record collector and expert on the history of recording who has produced several compilations, mostly for Rhino Records. He was inducted into the Radio Hall of Fame in 2009. (from Infoplease.com)
The Dr. Demento Show is radio's weekly two-hour festival of "mad music and crazy comedy" available for streaming on the internet. It is a free-wheeling, unpredictable mix of music and comedy. Along with legends like Spike Jones, Tom Lehrer, Stan Freberg, Monty Python, and Frank Zappa, the Doctor plays new funny songs sent in by amateur and professional singers and comedians. (from Dr. Demento.com)
A documentary film about Dr. Demento, "Under the Smogberry Trees," is currently in production.
Chairperson
Angela Brett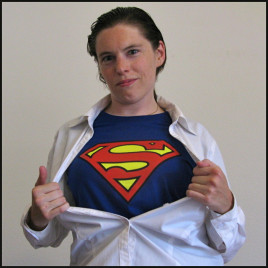 Angela Brett learns about the world (espe­cially sci­ence, pop­u­lar cul­ture, cur­rent events, and languages) almost exclu­sively through com­edy songs, and rarely com­mu­ni­cates with­out using the sen­tence 'I know a song about that.' She long con­sid­ered mak­ing her own online data­base of silly songs before dis­cov­er­ing the Sing About Sci­ence web­site and the Mad Music Archive. She films all the live shows she has per­mis­sion to, and was declared Best in Terms of Pants on the JoCo Cruise in 2014. She occasionally attempts to write her own terrible comedy songs and poems under the name 'Angelastic', which can be found at angelastic.com.
Founder
Rob Balder is a professional cartoonist, singer/songwriter, game designer and web entrepreneur. Most of his time is consumed writing and producing Erfworld, an epic fantasy/comedy comic about an obsessive strategy gamer who is summoned to fight a real war. Erfworld was co-created in 2006 with illustrator Jamie Noguchi, and continues now with the talents of illustrator Xin Ye. Time magazine named Erfworld one of its top ten graphic novels of 2007, and Wired.com called it "Geekiest Comic Ever." The first physical book of the series, "Erfworld: the Battle for Gobwin Knob," was published in February of 2011.
Rob also writes and sings comedy songs, and has recorded two solo CDs. The title track from his first CD, "Rich Fantasy Lives" was co-written with Filk Hall of Famer Tom Smith. It won the Pegasus award for Best Filk Song of 2007. In 2009 he collaborated with -=ShoEboX=- of Worm Quartet on a CD called "Baldbox: the Dumb Album." Rob's songs have often been heard on the Doctor Demento Show. In January 2007, he and six other comedy music performers founded The Funny Music Project, where they present new songs every single day, released under a Creative Commons license. The FuMP won the 2009 Parsec Award for Best Speculative Fiction Music Podcast.