About Logan Whitehurst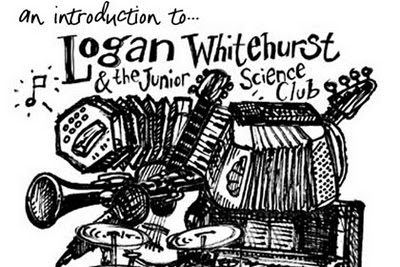 Logan Whitehurst was a musician best known to the general public as the drummer for the indie-rock band The Velvet Teen. However, we in the dementia community know him best as the man behind the comedy music project Logan Whitehurst And The Junior Science Club.
It was the music of the Junior Science Club that caught the ear of legendary radio host Dr. Demento who began playing his music regularly and did two shows dedicated entirely to Logan. Beginning in the year 2000 with "Monkeys Are Bad People" Logan's music began to appear regularly on the nationally syndicated program and often made the weekly countdown of most requested songs. He is best remembered for the songs "Happy Noodle Vs. Sad Noodle" and "The Robot Cat."
Logan's music has been compared to They Might Be Giants for its quirky lyrics and musical complexity. While Logan was the drummer for The Velvet Teen he performed all the music himself for the Junior Science Club playing not only drums but keyboards, guitar, accordion, concertina, and piano.
In late 2003 Logan took ill. He began a constant battle with fatigue, dizziness, headaches, and stomach problems. In May of 2004 he was diagnosed with a cancerous brain tumor. At this point he decided to leave The Velvet Teen and put his solo project on hold while he focused on his recovery. For the next year and a half he underwent various treatments for the cancer.
In the summer of 2006 his doctor declared him "cancer free" and Logan quickly returned to music. To ease back into it after such a long and difficult time away he decided to do a series of short songs and took suggestions from his friends and fans for song titles. Songs like "The Salad Days of the Vegetables," "The Mischievous Elves of Iceland," and "The Tale of Raskolnikov and Marty McFly" were among the suggestions and Logan set off to record the songs keeping the lengths of each to roughly 30 to 90 seconds. 81 songs were recorded in all.
In late August of 2006 Logan was examined by a doctor because he was suffering from severe headaches. It was discovered that his cancer had returned with a vengeance and the doctors gave him less than a year to live. "Thank you all–I love you for being there for me" was the last thing Logan wrote on his blog.
Logan Whitehurst passed away peacefully on December 3rd, 2006 with his family at his side. The Very Tiny Songs Project was released by Pandacide Records 3 weeks later.