April 15th, 2015
As the nom­i­na­tions are com­ing in faster and more furi­ous than a speed­ing movie fran­chise, we'd like to remind every­one that nom­i­na­tions will close at 11.59PM EDT on 4/19. At that point, no fur­ther nom­i­na­tions will be accepted, and it will be up to the jury to decide which lucky recip­i­ents get to walk away from FuMPFest 2015 with a lovely statue of our beloved robot cat. Thank you all for your sub­mis­sions so far, it's going to be a great time decid­ing the results!
January 1st, 2015
Happy New Year, com­edy music fans! Here's a cou­ple of impor­tant pieces of infor­ma­tion regard­ing last year's and next year's Logan Awards.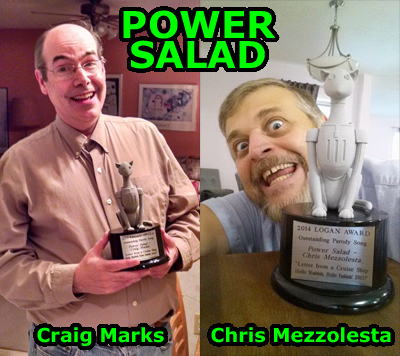 First of all, we're happy to report that the robot cat stat­uettes have been safely deliv­ered to our 2014 Logan Award win­ners. And just to remind you again who they are are:
Out­stand­ing Com­edy Music Video:
"That Doesn't Make Sense"
— by Whit­ney Avalon & Jonathan Hur­ley
Out­stand­ing Orig­i­nal Com­edy Song:
"Mwa­haha" — by Ookla The Mok
Out­stand­ing Par­ody Song:
"Let­ter From A Cruise Ship (Hello Mud­duh, Hello Fad­dah! 2013)"
— by Power Salad
So con­grat­u­la­tions to them once again, they are very happy to have received them, as you can see by this pic­ture of Power Salad with their trophies.
Sec­ondly, we are happy to announce that the 5th Annual Logan Awards cel­e­brat­ing the most out­stand­ing com­edy songs & music videos of the cal­en­dar year 2014 will be held at FuMPFeST 2015, which is hap­pen­ing June 5th through 7th, 2015 at the Westin Chicago North Shore in Wheel­ing, IL. They have just started announc­ing their per­form­ing guests, so for details on all of that and how to reg­is­ter and reserve your hotel rooms, go to http://www.fumpfest.com .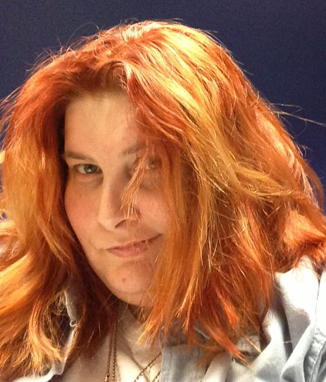 Fur­ther­more, we're happy to announce our Chair for the 2015 Logan Awards, Jean Prior.
Jean 'Jayekitty' Prior has been a DJ on Demen­tia Radio for over seven years, host­ess of Radio Free Gal­lifrey under the moniker DJ Phoenix. A past Pen­guiCon music track direc­tor, she has fos­tered new com­edy and non-mainstream musi­cians since her col­le­giate days *mum­ble­mum­ble* years ago. She has also con­tributed inspi­ra­tion to past com­edy char­ity CDs, and as an alumna of the Penn State Monty Python Soci­ety, can often be found quot­ing the most inap­pro­pri­ate bits (when not at work). She is offi­cially the crazy cat lady of demen­tia fan­dom, con­tribut­ing lyrics to one of Marc Gunn's cat songs, and a few of her cats have meowed their way onto her show. In her spare time, she enjoys writ­ing silly fan fic­tion, mon­i­tor­ing a twenty-year-old list­serv for an obscure vam­pire tv show, online role­play­ing and video games, and fish­ing (a feline favorite). Jean was a Juror for the 2011 Logan Awards, and has been the man­ager of the "Table 27″ merch table at both MarsCon and FuMPFeST for the past few years. We're very excited to have her as our Chair for this year's awards.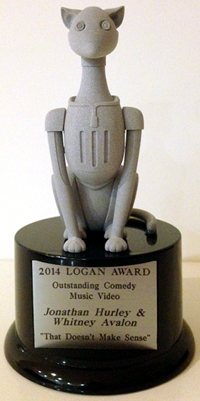 Now that 2014 has come to a close, it's time for you, the com­edy music fans, to start think­ing about what all of your favorite com­edy songs and music videos have been over the past year. Some­time in the next com­ing months, we will open the nom­i­na­tion sug­ges­tion form page so you can start sub­mit­ting your song & video sug­ges­tions for this year's jury. So come back here for future updates, and also keep an eye on our Face­book page and for the Funny Music Project, a.k.a. The FuMP dot com, for more announce­ments and updates on the 2015 Logan Awards. Thanks for read­ing, have a happy new year, so long and thanks for all the lizards and fish!